Nye Beach – 1866 to the present, the oceanfront district of Newport.
From the late 1800s, the public has been coming to Nye Beach to seek pleasure, respite, and rejuvenation. First, they came by train from the Willamette Valley to Yaquina City and then took a ferry to Newport.
The ferry brought visitors to the bayfront area of Newport, where hotels and commercial activity took place. Tourists then either stayed on the bayfront or walked via a wooden boardwalk built in 1891 to the Nye Beach area where cottages and another commercial area were established catering to the resort life.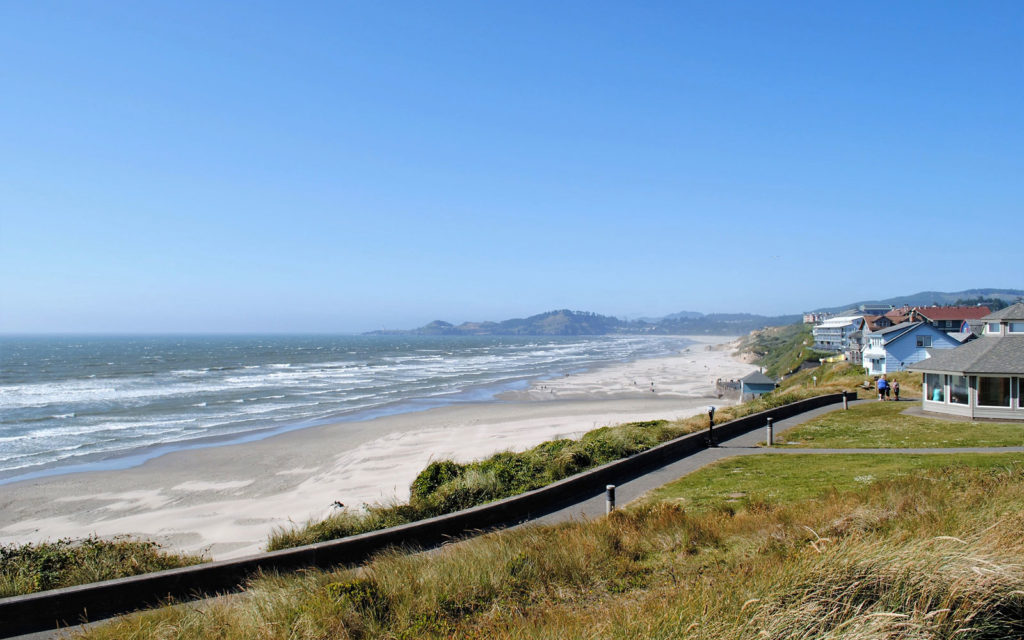 Thomas Condon, a State Geologist appointed in 1872 and later a professor of natural history at the University of Oregon from 1876 to his death in 1907, had a cottage on Agnes Street (now NW Third Street). Dr. Condon gave informative walks along Nye Beach explaining the geological composition of the area.
Dr. Henry Minthorn (President Herbert Hoover's Uncle) believed in the health benefits of the seaside. His Hot Sea Baths were one of the first facilities built at Nye Beach. Visitors believed that the heated saltwater had the power to leech poisons from their bodies. His former Sea Bath Sanitorium was torn down and in its place was erected the present Visual Arts Center. His home at Nye Beach remains and can be found on NW Cliff Street.
In 1905, Sam Irvin built a log cabin recreation center that featured a dance hall, bowling alley, and an outdoor horseshoe pit. He also built a hotel, which became Newport's first hospital during World War I. Many cabins and camping facilities also were also established at this time.
From 1910 to 1912, the area experienced a growth spurt. The Nicolai Hotel, the New Cliff House (now the Sylvia Beach Hotel), and the popular Natatorium which featured a theater, dance hall, and swimming pool, were all built-in 1912. In 1913, the building now housing the Yaquina Art Association was built as a bathhouse for visitors. It included changing rooms for men and women as well as a large rock fireplace.
Today, the Historic Nye Beach seaside neighborhood retains some of the charms of its history in a warm, friendly village atmosphere of shops, services, lodging, restaurants, essential service providers, and galleries by the sea. The Natatorium was purchased by Urban Renewal funds and destroyed in 1967 and replaced by today's oceanfront parking lot. Recent Urban Renewal funds paid for the new paving stones on Nw Beach Drive and NW Cliff Street and for the new public restrooms, historic street lights and the public foot wash.